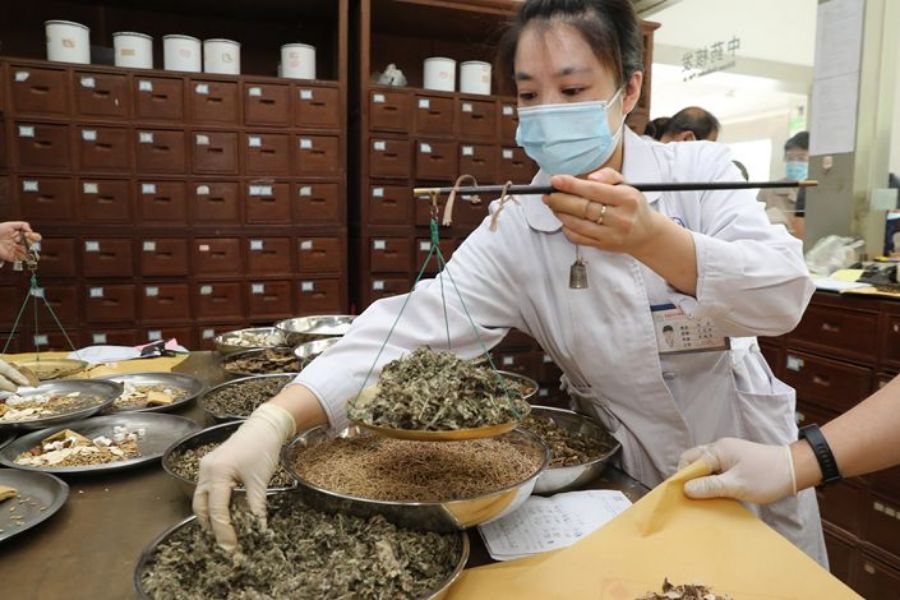 作者 : Beatrice 营养师
从中医角度看病因
中医着重于预防或维持健康,在治疗疾病中强调增强体质,提高对疾病的抵抗力。中医认为疾病发生的外因是由风、寒、火、燥、湿、暑六淫导致。气候变化会引发咳嗽、发烧、头痛和怕冷等症状。致病内因如气在体内运行不息以及肺部或其他相关器官系统(如肝、脾和胃)的气的运行失常,可导致持续咳嗽。
用于治疗传染病的传统药草
金银花的花在临床上被用作地方和传统药物,用于治疗风热感冒、温热病、疮、痈、疖和一些感染性疾病。金银花具有清热消肿之功效,因此《名医别录》、《神农本草经》将其列为上品。"扶正祛邪"是中医重要的临床治疗的方法,用于防治传染性疾病。 它也具有抗炎及抗菌活性。
连翘具有清热解毒、疏散风热、消肿散结等多种功效, 在临床上运用广泛。在现代研究中,从连翘中分离鉴定了230个化合物,其中木脂素和苯乙醇苷被认为是此药草的特性与活性成分。它们表现出抗炎、抗氧化、抗菌和抗敏感等多种药理作用。
绵马贯众传统上用于清热解毒、驱虫和止血。研究发现它所含有的绵马贯众素ABBA(间苯三酚之一)具有抗流感活性。
甘草是其中最常用的中药之一,它能补脾益气、清热解毒、祛痰止咳、缓急止痛以及调和诸药。
板蓝根是一种广泛用于治疗伤风感冒与其他上呼吸道感染(鼻子、喉咙和鼻窦)。它常用于清热解毒、凉血和消肿。
红景天在民间应用广泛,已超过一千年,主要用于消除疲劳以及抵抗高寒山区的冬季寒冷。中医认为红景天能补气清肺、益智养心、收涩止血、散瘀消肿。
香薷常用于发汗解表、化湿和中和利水消肿,主治夏天受凉,外感风寒,恶寒发热,无汗,头身疼痛等症状。
紫苑已有两千的使用历史,常用于润肺下气和消痰止咳。
参考文献:
Wang Z, Xia Q, Liu X, Liu W, Huang W, Mei X, Luo J, Shan M, Lin R, Zou D, Ma Z. Phytochemistry, pharmacology, quality control and future research of Forsythia suspensa (Thunb.) Vahl: A review. J Ethnopharmacol. 2018 Jan 10;210:318-339. doi: 10.1016/j.jep.2017.08.040. Epub 2017 Sep 5. PMID: 28887216.
Shang X, Pan H, Li M, Miao X, Ding H. Lonicera japonica Thunb.: ethnopharmacology, phytochemistry and pharmacology of an important traditional Chinese medicine. J Ethnopharmacol. 2011 Oct 31;138(1):1-21. doi: 10.1016/j.jep.2011.08.016. Epub 2011 Aug 16. PMID: 21864666; PMCID: PMC7127058.
Jin YH, Jeon S, Lee J, Kim S, Jang MS, Park CM, Song JH, Kim HR, Kwon S. Anticoronaviral Activity of the Natural Phloroglucinols, Dryocrassin ABBA and Filixic Acid ABA from the Rhizome of Dryopteris crassirhizomaby Targeting the Main Protease of SARS-CoV-2. Pharmaceutics. 2022 Feb 8;14(2):376. doi: 10.3390/pharmaceutics14020376. PMID: 35214108; PMCID: PMC8879496.
Chen Q, Lan HY, Peng W, Rahman K, Liu QC, Luan X, Zhang H. Isatis indigotica: a review of phytochemistry, pharmacological activities and clinical applications. J Pharm Pharmacol. 2021 Aug 12;73(9):1137-1150. doi: 10.1093/jpp/rgab014. PMID: 33779758; PMCID: PMC8249990.
Wang L, Yang R, Yuan B, Liu Y, Liu C. The antiviral and antimicrobial activities of licorice, a widely-used Chinese herb. Acta Pharm Sin B. 2015 Jul;5(4):310-5. doi: 10.1016/j.apsb.2015.05.005. Epub 2015 Jun 17. PMID: 26579460; PMCID: PMC4629407.