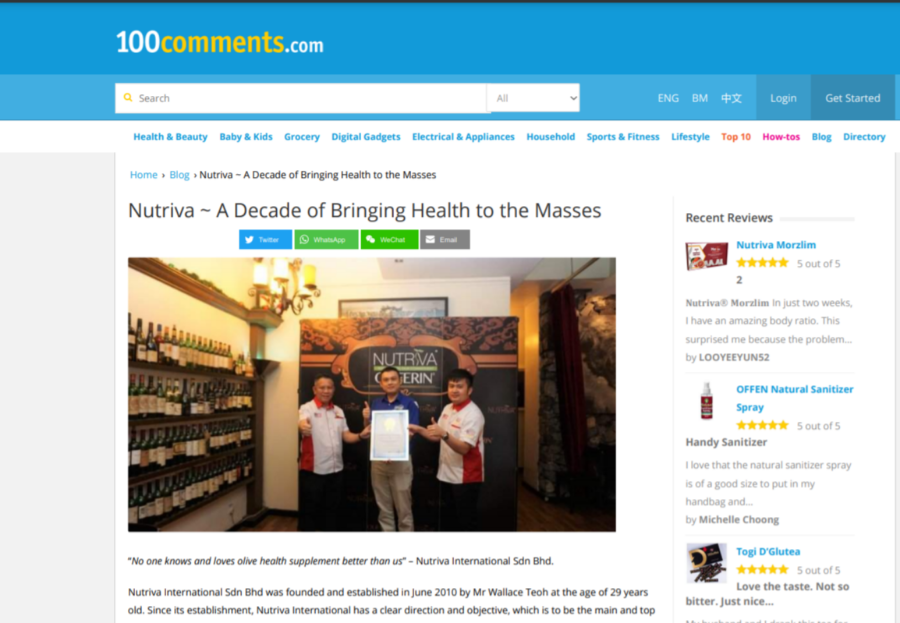 "No one knows and loves olive health supplement better than us" – Nutriva International Sdn Bhd.
Nutriva International Sdn Bhd was founded and established in June 2010 by Mr Wallace Teoh at the age of 29 years old. Since its establishment, Nutriva International has a clear direction and objective, which is to be the main and top player in the health supplement industry, specifically in the olive health supplement category.
Mr Wallace Teoh, founder and CEO of the Nutriva International grew up in a small village and came from a poor family. Since young, he already had a vision to do something different to step out from poverty and help his family and the community. He excelled in all his studies and was offered a place in the top boarding school when he was 12. He declined the offer in order to stay to help his parents in plantation. After SPM in year 1997, the economy was facing a crisis. It was then that Wallace made the fateful decision to study food technology in Polytechnic whereas most of his friends chose to study computer science and engineering. He believed that whatever crisis occurs in the future, people still need to eat, and this is the industry that won't be affected as much as others. It was the first time he left his family to pursue his diploma in Kuantan by taking the public bus alone with his luggage and dreams
Wallace completed his diploma with flying colours and continued his degree in a local university. He was one of the few exceptional students who was accepted to local university and being given a lot of exemptions on his subjects. He completed his degree in two years in Bachelor Science and Food Technology from University Putra Malaysia. Before graduating, he was offered a position in Unilever, one of the top FMCG's companies, as a research and development executive.
During his two-year career in Unilever, Wallace learned a lot about R&D formulations and factory production processes from A-Z. He once asked his manager if he could just copy every formulation and come up with his own brand.
His manager told him even if he did that, he still wouldn't have a well-known brand. Wallace soon realised that sales and branding are very important. So he left a good position at Unilever to take up a sales job in selling credit cards. He chose credit card sales in shopping malls as he believed this is a good way to master the selling skills and get used to rejection to excel in the future.
After three months of honing his sales skills, he landed a job at Pfizer Malaysia Sdn Bhd, which is hard to get. As the chosen three out of 200 applicants, he worked there for six years and gained experience in pharmaceutical products and built a strong network with pharmacies and doctors. At the age of 26, he has already secured a five-digit paycheck and has assets including a house and a car.
However, the luxury somehow distracted him from his original plan to set a business. He then took a drastic move by going to China to find what business he can do.
His first attempt was a huge failure. He got cheated by a supplier where they sent him different items than what he ordered. In order to get back his capital, he went to the night market and managed to sell them all. Then he decided to use his rapport, network and knowledge in food science and medical to venture into the health supplement business. He was always aware that with his limited modal and resources, he had to focus and wisely choose the first product he wanted to market.
On June 2010, Mr Wallace started his olive journey because he can foresee olive supplements can drive his entrepreneurship further. Olive already has a health image and can be used from head to toe, from the fruit right to its leaves and oil. From the day one, Nutriva International started to produce olive health supplements under the "OLIFERIN" brand and thrived.
Olive is known as a sacred fruit and its benefits was even documented in holy bible and Al-Quran. In addition, olive antioxidants are well studied and clinically proven for aiding in cardiovascular health, skin problems and the immune system, as well as being renowned for its anti-inflammation agent, anti-cancer and anti-aging properties. Meta-analysis data showed that Mediterranean people are less prone to cancer and cardiovascular problems due to their daily intake of olive oil and olive products.
After 10 years of hard work and dedication, Nutriva International Sdn Bhd is officially recognised as the "Most Number of Olive Health Supplement Products" by Malaysia Book of Records in 2020. The title means a lot to Nutriva International as a recognition in the health supplement industry. It also serves as a reminder to Nutriva International to continue to produce more quality olive products in the future.
"We want to transform our company and be known as a preventive medicine company that has therapists and nutritionists to educate consumers and to ensure they are getting the right information," said Wallace who has garnered The Best Brand of Olive Extract Supplement award by Lang International Corporate Titan Awards (LICTA) in 2019 and also Top 10 Company of the Year 2019 award. Throughout the years, Nutriva International has won numerous awards such as Best Olive Supplement, Best Antioxidant Products by Natural Health Readers' Choice awards and MMIA –Malaysia Most Impactful Health and Beauty Award 2019.
However, Nutriva International has never stopped sketching ideas and plans for the future. Wallace plans to expand to Asia, specifically Thailand, Singapore and Vietnam, More than a regular supplement company. Nutriva International is the platform where Wallace can promote products that are positioned as therapeutic and natural effective solutions for various health problems, at par with medical drugs.
In line with the company motto, "Your Health, Our Commitment", Nutriva International has never stopped developing sustainable and INNOVATIVE solutions to improve the health and wellbeing of our community. While pursuing the latest clinically proven ingredients, Nutriva International also ensures that its products are SAFE for long-term consumption and is dedicated in presenting its products in the most EFFECTIVE dosage and presentation. Nutriva International also strives to do their best to market the products in the most AFFORDABLE price without jeopardizing the three principles above.
Nutriva also believes in giving back to society. Various CSR programmes have been carried out with local NGOs. Recently, Nutriva International organised a 'Thousands Prosperity' Dinner in Kulai, Johor where more than 10 charity organisations were the beneficiaries.
Link: https://100comments.com/blog/nutriva-a-decade-of-bringing-health-to-the-masses/