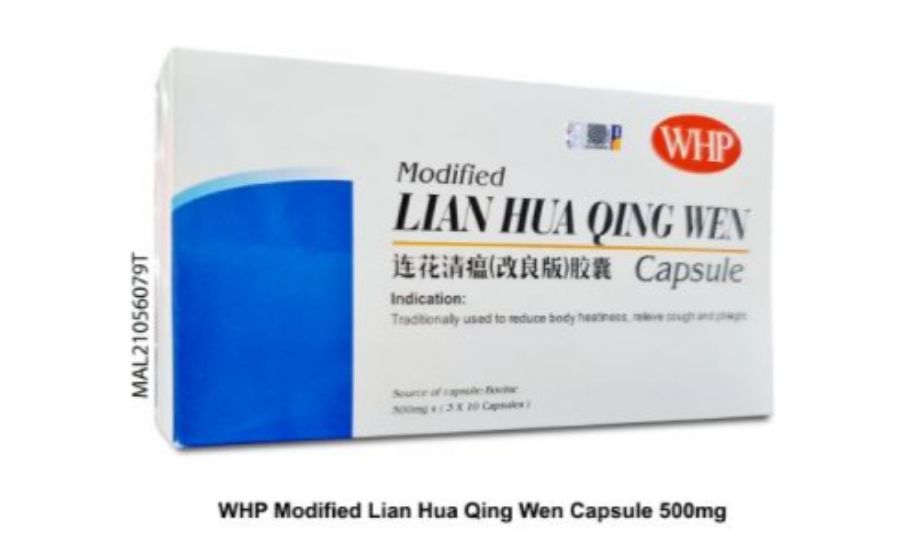 With roots deep in Chinese medical history, this capsule has been modified by Dr. Liu Zhefeng of White Heron Pharmaceutical Sdn. Bhd. WHP Modified Lian Hua Qing Wen Capsule 500mg contains total 14 different types of traditional Chinese remedies. The main ingredients include Fructus Forsythia Suspensa (Weeping forsythia / golden bell) and Flos Lonicera Japonica (Honeysuckle flower). It is carefully formulated without Ephedra, which is prohibited in Malaysia due to its adverse effects, and is replaced with three traditional Chinese medicines: Herba Mosla Chinensis (Elsholtzia), Radix et Rhizoma Aster Tataricus (Aster root), and Fructus Trichosanthis Kirilowii (Snakegourd Fruit). It is mild and more suitable and safer to be consumed by Malaysians, due to the country's tropical hot weather.
Modified WHP Lian Hua Qing Wen Capsule 500mg is the only Lian Hua Qing Wen in capsule form that has been registered and approved by the National Pharmaceutical Regulatory Agency (NPRA) with an approved indication.
Founded in 2010, the innovative team at Nutriva International Sdn. Bhd. has always worked with professional medical pharmacies and doctors. Nutriva International's tagline is "Your Health, Our Commitment," and the company's top priority is to find sustainable solutions to promote health. It is committed to using innovative research and high-performance ingredients to improve the community's health and well-being.
In addition to seeking the most recent scientifically established components, Nutriva International ensures that the product is safe for long-term usage. Nutriva International is committed to presenting products in the most effective dosing or presentation. As such, Nutriva International makes every effort to offer its products at the most affordable price possible without endangering the three preceding principles.
So, if you are feeling under the weather and battling with cough and phlegm, look no further than Modified WHP Lian Hua Qing Wen Capsule 500mg to help you feel better naturally.
WHP Modified Lian Hua Qing Wen Capsule 500mg is currently available at Caring Pharmacy, AM PM Pharmacy, AA Pharmacy, JOM Pharmacy, Sunlight Pharmacy, Georgetown / Wellings Pharmacy, and other licenced pharmacies, TCM centres, and medical halls. For more information, please call +60132122888 or email jamesttan@nutriva2u.com.