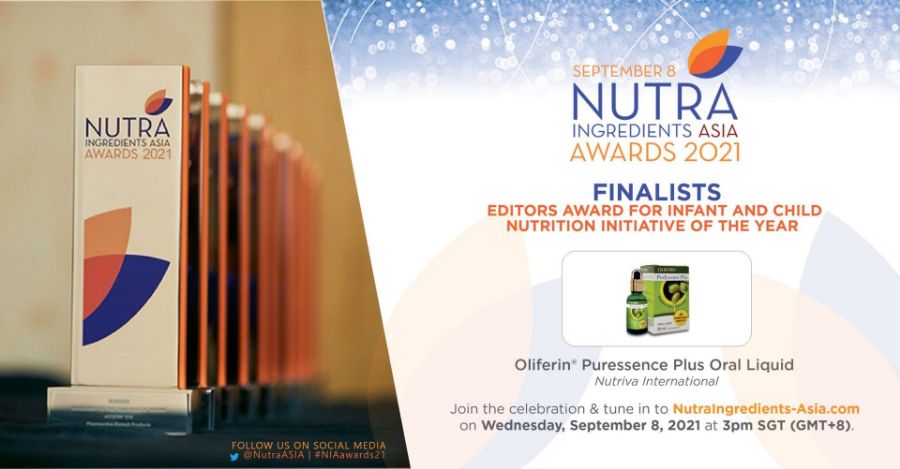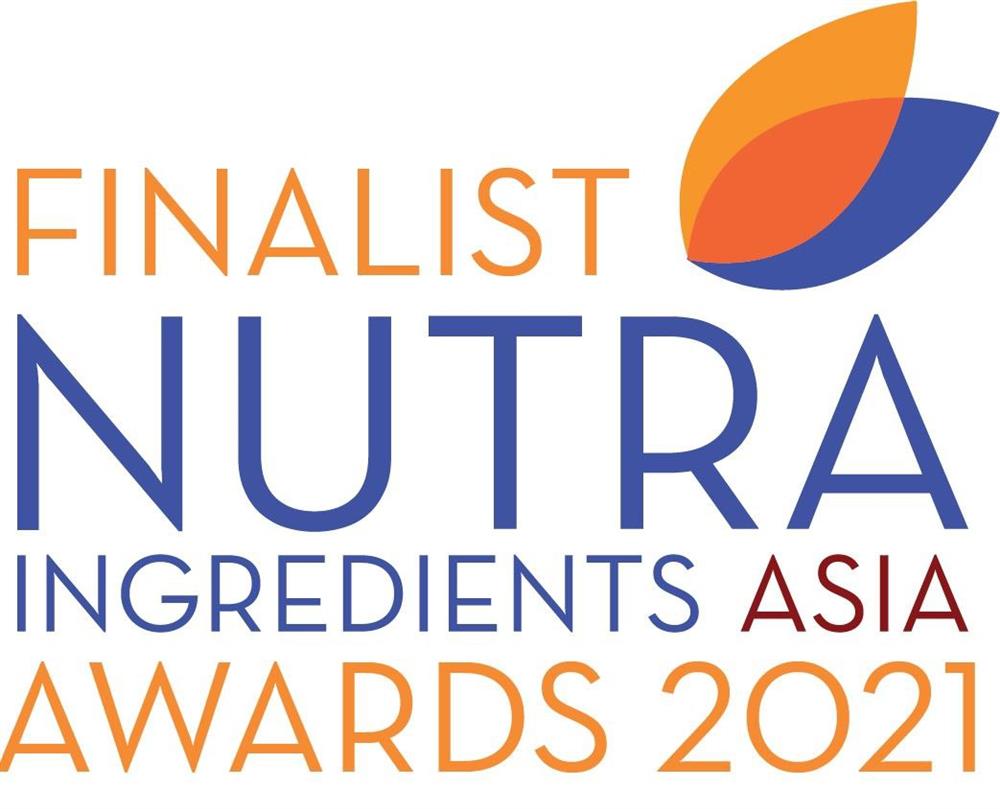 Editors Award for Infant and Child Nutrition Initiative of the Year
Oliferin® PurEssence Plus Named Finalist for NutraIngredients Asia Awards
August 2021 — Oliferin® PurEssence Plus oral liquid has been named one of three finalists for 2021 NutraIngredients-Asia Award in the category "Editors Award for Infant and Child Nutrition Initiative". The awards are open to companies across the globe, with their products available in the APAC region. Nutriva International Sdn. Bhd. was honoured and grateful to take part in the Award.
Oliferin® PurEssence Plus oral liquid has been recognized as only one olive extract in liquid form, enhanced with bifidobacteria in the world. It has at least 3 billion bifidobacteria breve M-16V and 33mg of hydroxytyrosol per dose (1mL). It is specially formulated for people who have skin problems like eczema and weak immune system especially infants and children. Eczema (or atopic dermatitis) often appears in the first six months to 5 years of a child's life. Atopic dermatitis is a chronic, inflammatory condition that is a result of an overactive immune system response to substances that are usually harmless. People with allergies, asthma, and eczema themselves are more likely to have children that develop eczema. This liquid formula is highly recommended for infant and children as only few drops for daily intake; it is natural supplement and easily absorbed by body.
The Olive (Olea europaea), has been identified for thousands of years as a healthy and restorative gift from nature, is one of the oldest fruits in the world. Olive extract is rich in polyphenols, especially Hydroxytyrosol (HT) which is one of the most powerful antioxidants in nature and well absorbed by human body. Olives have been extensively researched and utilized in many fields over the last few years, it possesses antioxidant and anti-inflammatory effects, strengthens the immune system and boosts the energy levels, and it has been reported that they are effective in treating respiratory diseases and skin wound infections and in relieving cold symptoms.
Morinaga® Bifidobacterium breve M-16V, supported by over 40 scientific studies, is a clinically effective, well-established probiotic strain that exerts beneficial effects on infant health. Studies have demonstrated that M-16V helps relieve atopic dermatitis problem and modulate immune response among infants and children. M-16V also granted the GRAS (Generally Recognized as Safe) status for foods and infant use from U.S. FDA. It is the winner of NutraIngredients Asia Infant Nutrition Ingredient of the Year Awards in 2019.