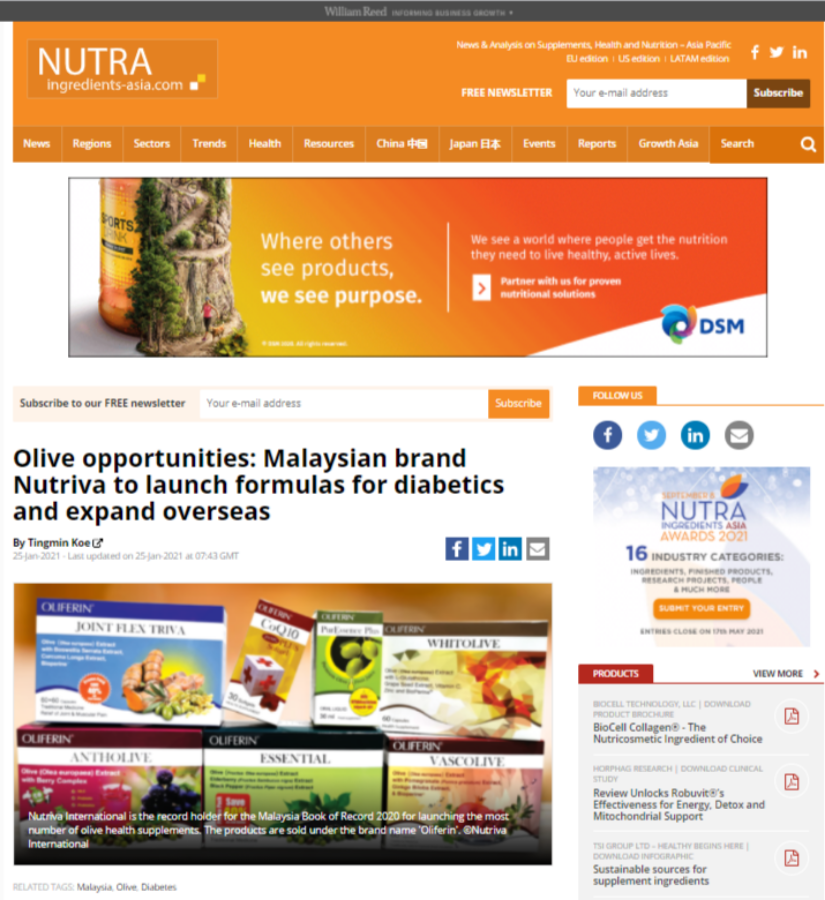 Malaysia olive supplement company Nutriva International is set to launch new product for diabetic patients, as well as entering new markets such as Thailand this year.
The company formed in 2010, is founded by Wallace Teoh, who previously held a sales role in pharmaceutical giant Pfizer. Teoh is also the CEO of Nutriva.
Selling under the brand 'Oliferin', the company's products contain the proprietary olive extract OleaA and are halal certified.
In fact, the company is the record holder for the Malaysia Book of Record 2020 for launching the most number of olive health supplement products.
"Most of our consumers already have medical issues and are looking for a natural solution as an adjunctive to their treatment," Teoh told NutraIngredients Asia.
The company's best-selling products are those for the skin, heart, immune system and joint health.
There are currently 10 SKUs in the portfolio and the company is looking to launch one new product for diabetic patients this year.
"The supplement increases the sensitivity of pancreas to make insulin," Teoh explained, adding that the main bioactive in the formula is the phenolic compound hydroxytyrosol drawn from the olive tree and leaves.
The company imports its in-house formulated olive oil from Spain. The formula is said to contain 15% of hydroxytyrosol and 20% total polyphenols (consisting of five different olive polyphenols), said Teoh.
The capsule products for diabetic patients is currently undergoing registration in Malaysia.
Other new products in the pipeline include formulas for eye health, liver health, and a soft gel product for cognitive health.
"There are a lot of opportunities in olives. It is not a staple here in Asia, and so, the untapped opportunities are huge.
"Also, olive is featured in the bible and koran, which means that there is already a good perception of olives, especially amongst Muslims in Malaysia," Teoh said.
Probiotic Oil
Last June, the company also launched its first probiotic product that aims to reduce the risk of atopic dermatitis infants.
Known as Oliferin PurEssence Plus, the product consists of Bifidobacterium breve M-16V and olive concentration as the main active components.
Pregnant women are recommended to take the supplement during their last trimester, and the product is also suitable for use in newborns, Teoh said.
He added that as an adjunctive treatment, the recommended dosage is 1ml per day and 0.5ml per day for maintenance.
One ml of the probiotic oil contains 3billion CFU of the bacteria. The probiotic oil can be added into infant formula, other foods, or taken directly.
"We see that there are more mothers looking for solutions for atopic dermatitis and unknown allergies. As such, we have combined a probiotic proven for reducing atopic dermatitis and olive oil to make the product more effective and has a special selling point, "he said.
Clinical studies have shown that prenatal and postnatal supplementation of Bifidobacterium breve M-16V could prevent allergies diseases.
In an open trial, administration of a probiotics mixture that includes M-16V during pregnancy as well as in postnatal period, was shown to lower the risk of infants developing allergic disorders.
The study involved 130 mothers who were provided with a daily powder formulation containing M-16V and B. longum BB536 (5 X 109 CFU/g of each strain) one month before the expected date of delivery and postnatally to their infants for six months.
Another 36 mothers-infant pairs who did not receive the bifidobacterial supplementation were served as the control.
The intervention group saw a significantly lower risk of eczema and atopic dermatitis in infants during the first 18 months of life as compared to the control group.
Teoh revealed that the company had spent about eight years to develop probiotic oil, as it tried to overcome problems related to probiotic stability.
The room temperature stable product is currently available in pharmacies across Malaysia.
The company is also working with paediatricians to observe the effects of the probiotic oil in infants.
Partnering with MLM
Nutriva is planning to introduce its products into Thailand by Q2 this year through partnership with multi-level marketing companies.
It is also in talks with multi-level marketing companies from Indonesia and Philippines.
For a start, it will introduce its probiotic oil and other liquid based product, before introducing powder, and capsule products in Thailand.
"The multi-level marketing and online channel are quite aggressive in Asian countries," he said.
In Malaysia, it will focus 80% of the business on the pharmacy channel-its key business partner since the founding of the company and the remaining on online channel.
In Singapore, it is already working with cardiologist in selling its heart health formula as an adjunctive treatment.
Link: https://www.nutraingredients-asia.com/Article/2021/01/25/Olive-opportunities-Malaysian-brand-Nutriva-to-launch-formulas-for-diabetics-and-expand-overseas