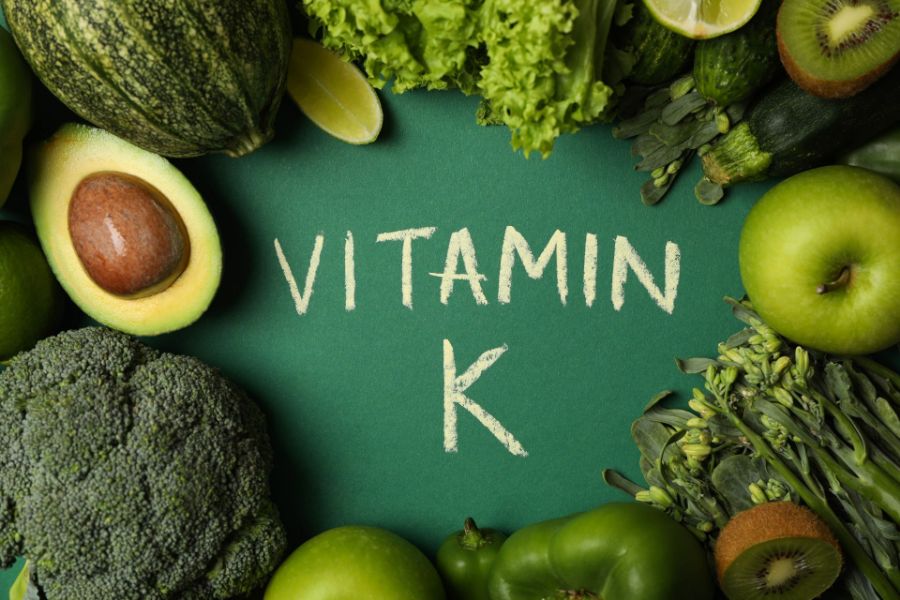 By Nutritionist Avril
Majority of people have never heard of vitamin K2. This vitamin is uncommon in the Western diet and has gotten little attention from the media. However, this potent vitamin is critical to many aspects of your health. In fact, some believe that vitamin K2 is the missing connection between food and a variety of chronic disorders.
A Danish chemist named Henrik Dam discovered vitamin K in 1929 as a vital ingredient for blood coagulation. It was also found until the early twentieth century by the dentist Weston Price, who traveled the world studying the link between nutrition and illness in various countries. He discovered that non-industrial diets were high in an undiscovered vitamin that appeared to protect against teeth decay and chronic illness. He dubbed this enigmatic nutrient activator X. It is now thought to have been vitamin K2.
Menaquinones (MKs) are vitamin K2 subtypes named by the length of their side chain. They are numbered from MK-4 through MK-13. MK-4 and MK-7 are the most essential.
Why Is Vitamin K2 Required?
Vitamins K1 and K2 both promote good blood coagulation, which helps to prevent excessive bleeding and bruising when blood vessels are broken. However, new study indicates that they play distinct roles in other parts of human health, with vitamin K2 providing health advantages independent of vitamin K1.
Cardiovascular Health
In human bodies, vitamin K breaks down calcium, which helps prevent hard deposits (calcium and fatty material) from developing in arterial walls. Smooth and flexible blood arteries promote healthy circulation, lowering the risk of blood clots and heart disease. However, vitamin K2 alone may have this effect. According to studies, every 10 micrograms ingested reduces a person's chance of dying from heart disease by 9%, although there is no relationship with K1 intake.
Bones Health
Calcium is required by our bodies to form and preserve bones. When vitamin K2 degrades calcium in our systems, it activates a protein that allows the mineral to connect to our bones and complete its purpose. While research is ongoing, studies suggest that consuming more K2 increases bone density and lowers the incidence of fractures.
Anticancer Properties
Researchers discovered that vitamin K2 can delay or stop cancer cell activity. Other studies indicate that this may enhance survival rates and minimize cancer recurrence. However, because these studies have only looked at select malignancies, such as liver and prostate cancer, much more study is required.
Where can you get Vitamin K2?
Vitamin K2 can be partially converted from vitamin K1. Current research, however, suggests that the conversion process is inefficient. As a result, ingesting vitamin K2 directly may provide even greater benefits. Vitamin K2 was also created by gut bacteria in your large intestine.
It is mostly present in animal and fermented foods. MK-4 is found in animal meals, whereas MK-5 to MK-14 is found in fermented foods such as sauerkraut, natto, and miso. Rich animal sources include high fat dairy products from grass-fed cows and egg yolks, as well as liver and other organ meats. If these foods are not available to you, taking supplements is a viable option.
When taken with vitamin D, the effects of K2 supplementation may be improved even more. Because these two vitamins have synergistic effects, they may operate together.
All in all, Vitamin K2 is a potent vitamin that can enhance your health, particularly if you have cardiovascular disease, osteoporosis, or are at high risk of developing cancer.
References
Beulens JW, Booth SL, van den Heuvel EG, Stoecklin E, Baka A, Vermeer C. The role of menaquinones (vitamin K₂) in human health. Br J Nutr. 2013 Oct;110(8):1357-68. doi: 10.1017/S0007114513001013. Epub 2013 Apr 16. PMID: 23590754.

Booth SL. Vitamin K: food composition and dietary intakes. Food Nutr Res. 2012;56. doi: 10.3402/fnr.v56i0.5505. Epub 2012 Apr 2. PMID: 22489217; PMCID: PMC3321250.

Harvard Medical School: "Calcium: What's Best for Your Bones and Health?"

Harvard Medical School: "Can vitamin K supplements help protect against heart disease?"

Harvard Medical School: "Fermented foods can add depth to your diet."

Ishizuka M, Kubota K, Shimoda M, Kita J, Kato M, Park KH, Shiraki T. Effect of menatetrenone, a vitamin k2 analog, on recurrence of hepatocellular carcinoma after surgical resection: a prospective randomized controlled trial. Anticancer Res. 2012 Dec;32(12):5415-20. PMID: 23225445.

Jensen MB, Rød KE, Švarc PL, Oveland E, Jakobsen J. Vitamin K (phylloquinone and menaquinones) in foods - Cost-effective quantification by LC-ESI-MS/MS. Food Chem. 2022 Aug 15;385:132672. doi: 10.1016/j.foodchem.2022.132672. Epub 2022 Mar 9. PMID: 35287105.

National Institutes of Health: "Vitamin K."

Samykutty A, Shetty AV, Dakshinamoorthy G, Kalyanasundaram R, Zheng G, Chen A, Bosland MC, Kajdacsy-Balla A, Gnanasekar M. Vitamin k2, a naturally occurring menaquinone, exerts therapeutic effects on both hormone-dependent and hormone-independent prostate cancer cells. Evid Based Complement Alternat Med. 2013;2013:287358. doi: 10.1155/2013/287358. Epub 2013 Aug 24. PMID: 24062781; PMCID: PMC3767046.

Schwalfenberg GK. Vitamins K1 and K2: The Emerging Group of Vitamins Required for Human Health. J Nutr Metab. 2017;2017:6254836. doi: 10.1155/2017/6254836. Epub 2017 Jun 18. PMID: 28698808; PMCID: PMC5494092.

Van Ballegooijen AJ, Pilz S, Tomaschitz A, Grübler MR, Verheyen N. The Synergistic Interplay between Vitamins D and K for Bone and Cardiovascular Health: A Narrative Review. Int J Endocrinol. 2017;2017:7454376. doi: 10.1155/2017/7454376. Epub 2017 Sep 12. PMID: 29138634; PMCID: PMC5613455.

Vermeer C. Vitamin K: the effect on health beyond coagulation - an overview. Food Nutr Res. 2012;56. doi: 10.3402/fnr.v56i0.5329. Epub 2012 Apr 2. PMID: 22489224; PMCID: PMC3321262